Accessibility Map
The University of Florida is situated on a 2,000 acre campus with more than 900 buildings. In collaboration with the Transportation and Parking Services office, the Disability Resource Center has created an online accessibility map. The accessibility map provides students with valuable information regarding accessible entrances, handicapped parking, and accessibility routes to many parts of campus.
Map Legend
To view the accessibility map, visit campusmap.ufl.edu or click on the image below. Make sure "ADA Accessibility" is selected and choose your desired options.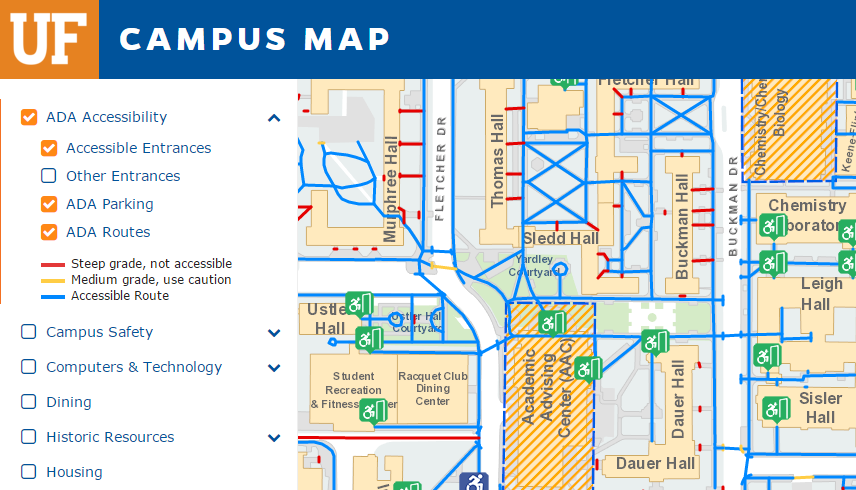 ‌
Gator Lift
Gator Lift provides reliable, convenient and free shuttle service to accessible locations within the boundaries of the campus of the University of Florida for students, faculty and staff with mobility-related disabilities.
Gator Lift vehicles can accommodate ten passengers and up to two wheelchairs and are equipped with lifts for easy access. All drivers are trained to provide boarding assistance.
To request Gator Lift Service, fill out the Gator Lift Reservation Request Form. Additional information about Gator Lift can be found at Transportation and Parking Services > Gator Lift.
Disabled Parking for Students
If you are a student and park on campus using a state-issued Disabled Persons Parking Placard, you are required to purchase a UF Disabled Persons parking decal. If you have a mobility-related disability, you may be eligible for special parking accommodations upon purchase. Additional information and pricing can be found at Transportation and Parking Services > Disabled Decals.
Access to Activities and Special Events
If you require any type of an accommodation for an event sponsored by the University of Florida accommodation requests must be made at least 72 hours in advance of the function. To arrange for accommodations contact the agency sponsoring the event. For assistance contact the UF ADA Office (352) 392-1591 or 711(TDD/TTY).
Emergency Procedures
Please review the procedure for campus evacuations, courtesy of the ADA Compliance Office.
Additional Policies